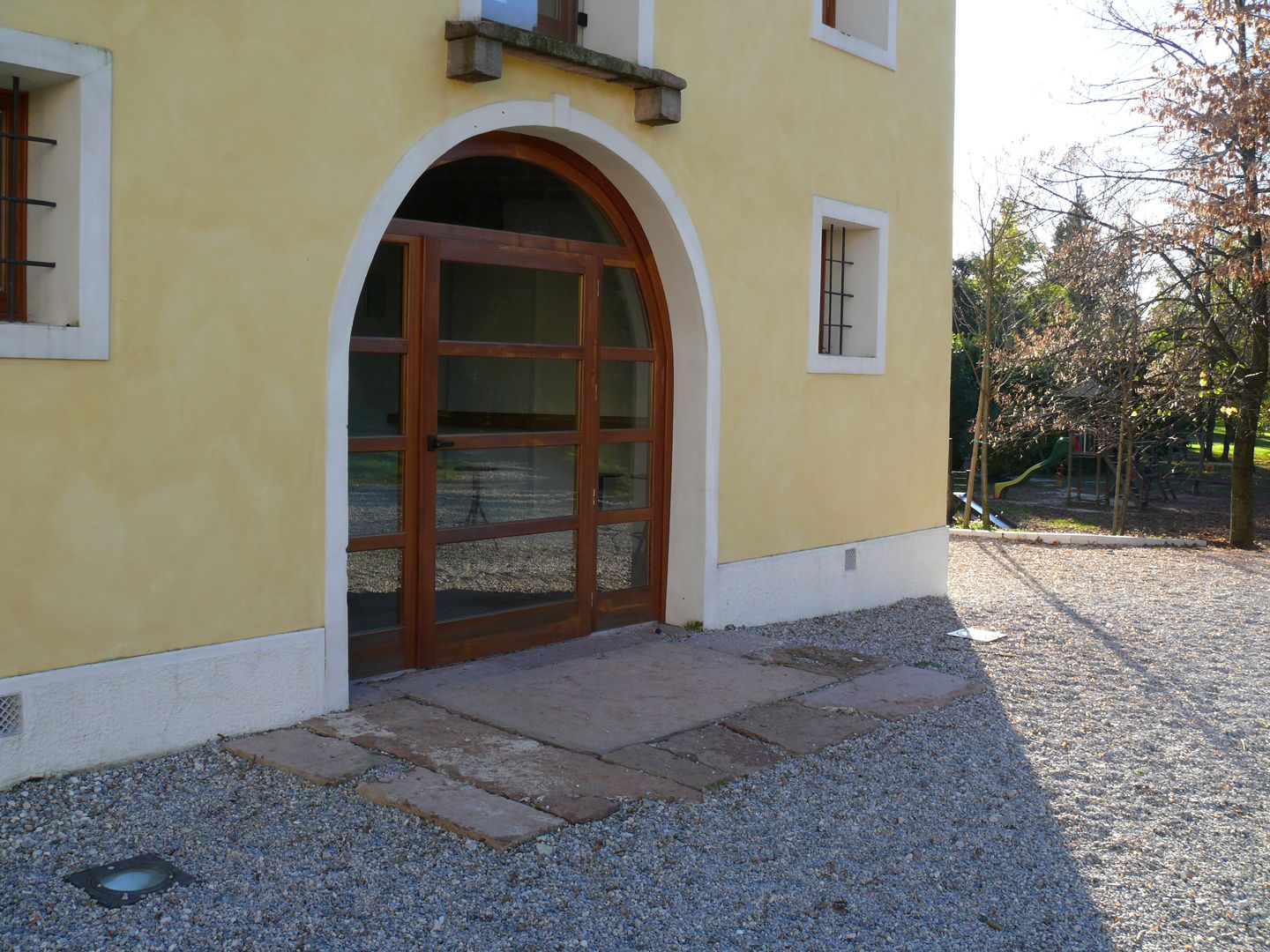 There are a number of significant architectural features in the Villa Varda grounds that offer enchanting examples of how human constructions can complement the natural environment. They were built at different times but they are all tied together by the greenery in the garden. As visitors make their way around the villa, they are wonderful places to stop and reflect on the historical and natural marvels on display.
Five arches stretch across the orangery, which has a terrace with a stone balustrade on top of it and is located near the main body of the villa. Built in the early 20th century and renovated by the architect Domenico Rupolo, photographic evidence would seem to indicate that it was originally used as a greenhouse to protect exotic plants in the winter and for entertaining outdoors in the summer season.
The chapel dates back to 1670 and was built by order of the Mazzoleni family, who owned the villa at the time. It contains the tomb of its builder, Fabio Mazzoleni. The chapel was already standing when the grounds were reorganized and given their current form. In the early 20th century, it was renovated by the architect Domenico Rupolo and frescoed by the painter Tiburzio Donadon in neo-Gothic style.
The ice house (or jassera, as it was called in the local dialect) has an underground chamber where ice and snow were taken and used for food storage purposes. In 1932, a crenellated tower was built with a water tank inside. It was used to supply the two fountains and water the garden.
The small mausoleumis the final resting place of a number of members of the Morpurgo family, who owned Villa Varda until 1943.
The building known as the Canevon dates back to the early 19th century: it is not shown on a Napoleonic military map from 1798-1805, but it can be found in the Austrian land register for the years 1830-1850. The name means "large winery" and that was originally its intended purpose. It was subsequently extended and used not only as a stable but also for silk farming, as shown by the presence of several fireplaces on the upper floor. The building has now been restored and given back its original form, complete with its own "rose garden".
Rounding off the complex are a number of buildings used for farming, including one for drying the cocoons of the silkworms farmed at Villa Varda.